Reviews, Referrals & References
October 1st, 2020 | by jjoneslogin | Posted in Uncategorized

One of the greatest compliments you can give to someone who is providing you with a service is one of the Big R's! A positive Review, Referring another consumer, and by being a positive Reference for another consumer. The most important thing to remember is to make sure you leave your name!

If you do not leave your name with the person you are referring, on the review you are leaving, or giving a reference to, the company has no idea who to thank. Make sure you write it down or having them store it in their phone. Most companies are more than happy to compensate with an appreciate gift for your words and your time (WE DO).

Make sure you are honest in your review, referral, and reference process. This helps other consumers paint a better picture of what to expect. It also helps companies know what they are doing right or wrong and how to make improvements within themselves.

So how do you go about writing a review for a company? First thing is First, "Google it". Just by googling a companies name you can have the option to leave a review on google. https://www.google.com/search?q=structure+builders+san+antonio&oq=structure+builders+san+antonio&aqs=chrome..69i57j0j35i39j0l2j69i60l3.13399j0j7&sourceid=chrome&ie=UTF-8#lrd=0x865c5f625d7b191b:0xd038bc81486d5173,1,,,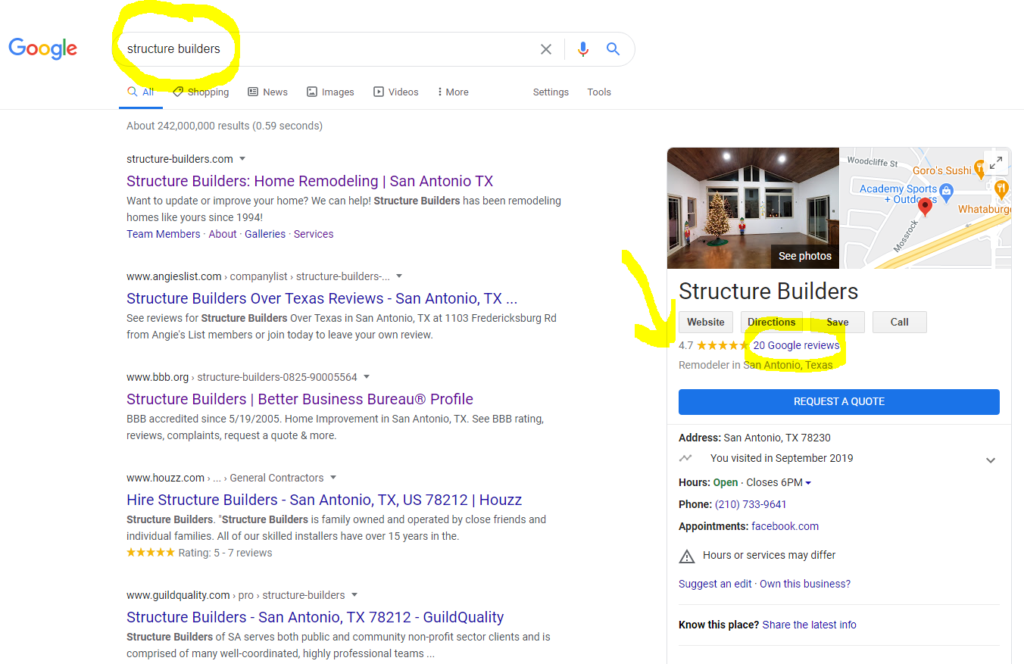 There are also many review companies you can utilize to get your opinion out there! You can ask the company you used or you can use one of the one the many trusted online resources: BBB.org, Yelp.com, Angieslist.com, Houzz.com.
If you would like to write a review about Structure Builders use the links below.
https://member.angieslist.com/member/reviews/edit?serviceProviderId=359175&fbclid=IwAR3ERYWAXiYzdFcEH7JCzJBEH7jqcfC-HgCWPJCwncwHFa4jnTVdiwFj4kU
https://www.google.com/search?q=structure+builders+san+antonio&oq=structure+builders+san+antonio&aqs=chrome..69i57j0j35i39j0l2j69i60l3.13399j0j7&sourceid=chrome&ie=UTF-8#lrd=0x865c5f625d7b191b:0xd038bc81486d5173,3,,,
https://www.houzz.com/writeProReview/cmd=r/n=structure-builders1
https://www.bbb.org/us/tx/san-antonio/profile/home-improvement/structure-builders-0825-90005564/customer-reviews
https://www.yelp.com/writeareview/biz/khrzySwvcD6r558lljnZlw?return_url=%2Fbiz%2FkhrzySwvcD6r558lljnZlw&source=biz_details_war_button